Diagnose All The HP Printer Problem When Stuck in Queue for Printing
A Solution Guide to Diagnose HP Printer Problems
This article will help you in diagnosing all HP printer problem using their specified solutions. All the troubleshooting steps has been provided in a simple manner so that you can resolve the issue in a quick span of time.
There are multiple issue which can arise with HP printer which are shown as below-
Paper jam error
HP printer 'no toner error'.
Showing 'offline error', click here for fix
Some or all of the printing on the page is faded.
Laser printer is ghosting
Toner smears or does not stay on the paper
Unable to find driver for Specified OS.
Not printing from the expected paper tray
So there are all sorts of problems which can occur in HP printer. Therefore, we have provided a quick and easy solution for these problems in the below section.
1. Start With Basic Diagnose For HP Printer Problems​-
First Check whether the basic connection between your HP printer and computer is compatible.
Thereby unplug your printer for a couple of minutes from power cord and again plug in and then restart.
2.Check For The Print Queue: Clear Command For Printing
HP printer often does not take print commands due to previous pending print traffic referred to as 'print queue'. Make sure to check any previous stuck printing requests and clear the print queue to continue with newer requests.
Follow the below given procedure to fix print queue problem-
Go to  the control panel from the search bar of your Windows PC.
Next open 'devices and printers'.
Then right click on your HP printer icon and thereafter select 'what's printing' option from the menu.
Next click on 'open as administrator from the printer menu.
To cancel the previous print command traffic, open the 'printer' menu and select 'cancel all documents'.
Click 'yes' to confirm and now you can proceed with your printing task.
3. Check For Ghosting Error When Using HP Printer
Ghosting is a printing problem which arises in HP laser printers. Due to this problem the printouts comes faded and it can affect the overall laser printer performance.
So here are some techniques listed to diagnose ghosting error :
Storing and Cleaning :
Humidity can affect the toner powder and cause it to clump. Therefore it is recommended tokeep the printer in a dry place.
Cleaning should be done on printer on regular basis to prevent it from not working.
Checking the Fuser Unit:
The printer fuser temperature control unit may cause error. To fix this issue change the temperature of the fuser. However if you are not able to control the temperate of fuser, it is advisable to get it replaced with help of a professional.
Adjust the paper setting
If you are using paper like laser printer paper, make sure that the paper setting matches with the paper type. Usually the paper setting adjustment will clear up a ghosting issue right away.
Repair or Replace Drum Unit:
An old drum unit can be the reason for printer ghosting errors and it is best to replace it with a new one. If the drum unit is new and the ghosting error persists, you can take help from professionals.
Hope these steps will help to diagnose HP printer common problem.
4. Is HP Printer Receiving Right Commands to Perform ? If Not Then Set It As 'Default'
If the HP printer is not responding to right printing commands then it might be due to the wrong settings in computer. To resolve this error you need to make sure that your printer is selected as 'Default Printer'. You can do this by following the below steps-
Go to the search bar of your Windows and type 'Run' Command.
Type 'Control Panel' in the 'Run' dialogue box top open the control panel.
Once the control panel opens, select 'Devices and Printers'.
On the next screen from the list of printers, right click on your HP printer icon and select 'Set as default printer'.
Now after completing the above steps if you see a green tick below your HP printer icon, your job is done.
5. Choose The Right Driver For Your System To Fix HP Printer Problems
Sometimes outdated or faulty printer driver may hamper the printing function. Hence you need to update it and easily fix hp printer problems by following these steps-
First open the 'Run' dialog box using the search bar in window system.
Type 'devmgmt. msc'  in the empty text field as shown in the image below.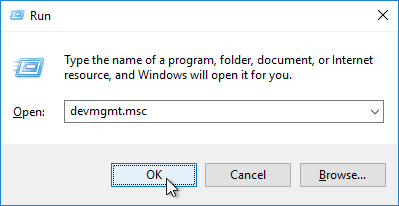 Now a new windows will open and display 'd

evice manager'

.
Expand firmware of device manager and double-click on 'system firmware'.
Now select the printer driver tab.
Thereafter click on 'update driver'.
Click s

earch automatically for updated driver software

.
Next wait for the update to download and then follow the instructions.
Lastly restart your computer to complete the installation of the updates.
5. There May Be Issue With Your HP Printer Hardware
After completing all of the above troubleshooting steps if still your printer is not working then there might be a hardware issue with your printer. Hardware fault may look like:
Fault in the USB port due to damage. In this case replace the cable with a new one.
If your system runs out of RAM capacity, it reduces the printing speed. To resolve this increase your RAM with help of a professional. 
Any other hardware error may also cause your printer not to function. It is advisable to get your printer replaced in such case if its under warranty. 
Conclusion–
By using the above troubleshooting steps you will be able to diagnose and fix your HP printer problem. If you are unable to fix your HP printer problems by above methods then feel free to contact us on our helpline number for assistance.